Penang holidays
Hello and Assalamualaikum.On 10,11 and12 December, I, Afiq and My parents went to Penang. Why  Aqlan and Naqia not following us? let's read my story ..
On the night of 10 December, my mother and Afiq went to the Penang International Airport to pick up Abah and his boss.Ibu told to Naqia and Aqlan  for sitting at TokWan's home while we were at the hotel for 3 days and 2 nights.We  arrived in Tabung Haji Hotel, Bayan Lepas at 12.00am.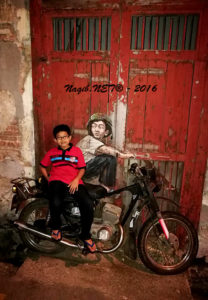 That morning, we had breakfast at the Terrace Cafe located in the hotel lobby. After breakfast, we go to the hotel room and Abah went to work with his boss.
At night, we prayer maghrib at Masjid Kapitan Keling. After the prayer, we went to dinner at Nasi Kandar Masjid Kapitan Keling Restaurant.After Isha ', we posing in several places and take photos.
The next day at 12 noon, we went to the counter to be in the lobby to check out the hotel.We waited Abah to pick us back to the village.
We arrived at the village at 10.00pm
—————–ASSALAMUALAIKUM AND GOODBYE—————-